I made pumpkin cake for my Mother's birthday. I wanted to try something different, so I searched through my collection of community cookbooks. I found an interesting recipe in a cookbook entitled, Something Special A collection of Ideas and Recipes for the Creative Hostess. It was compiled by the Professional Members of the Junior League of York, Pennsylvania. Unfortunately, there isn't a date in the book, so I don't really know the age of the cookbook. I have found that this is often the case with community cookbooks. If I had to take a guess, I'd say it was from the 1980s, or possibly from the late '7s. As an aside, I've found that the cookbooks put out by the Junior Leagues tend to be very good ones. It's a good bet that if you pick up a Junior League cookbook, you'll find many good recipes inside.
The cake was moist and dense, almost like a good pumpkin bread. It had a cream cheese frosting, and it was sooo delicious. It didn't last long, so I only have one picture of what remained of the cake after we all tried it.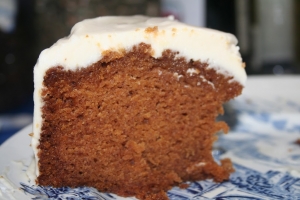 Here is the recipe:
Pumpkin Cake
with cream cheese frosting
2 cups sugar
4 eggs
1 cup oil
2 cups flour
1 pound Libby's solid pack pumpkin
2 tsp cinnamon
2 tsp baking soda
1/2 tsp salt
Mix sugar, oil and eggs at medium speed for 3 minutes. Add flour, spices and pumpkin and mix at slow speed. Pour in greased Bundt pan (or angel food or tube pan). Bake 1 hour at 350 degrees.
Frosting:
1 8 oz. pkg. Philadelphia Cream Cheese (softened)
1/2 cup margarine, softened
2 tsp vanilla
2 cups 4x sugar
Mix at slow speed. Frost cake.
The only things that I did differently were that I used a different brand of pumpkin, I used butter instead of margarine, and I used regular confectioner's sugar.
This was really good. I will definitely make this again, and it's going into my collection of "keepers." That's what we call something that's really good – it's a "keeper." I'd love to hear if you make this cake, and what your opinion of it is.
Enjoy!