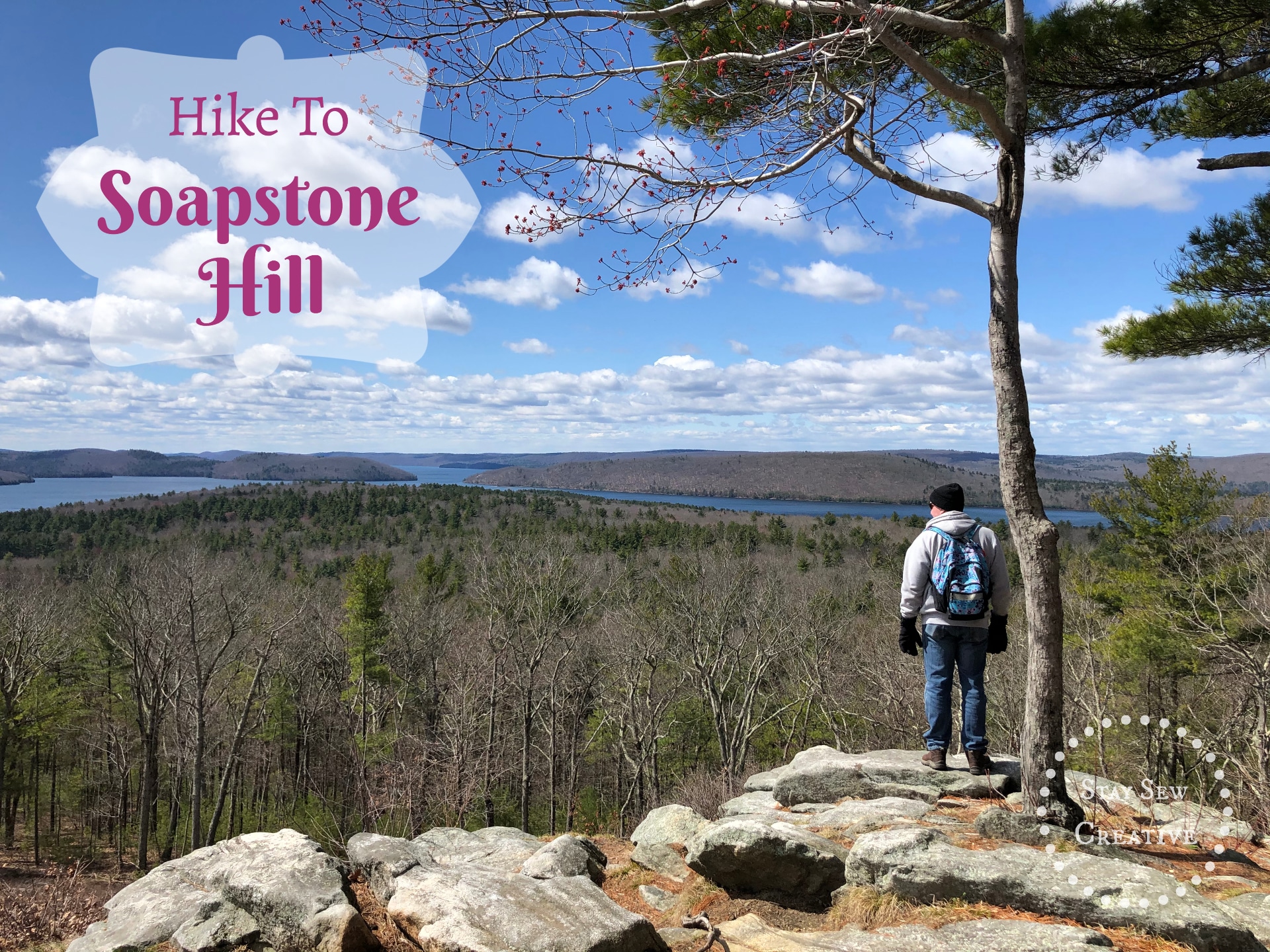 On a recent Saturday (April 11, 2020), Rob and I decided to head out to the Quabbin Reservoir, and in particular, Soapstone Hill. We had tried to get there a few weeks before, but the directions I had followed were a little misleading. Once I realized my mistake, those directions made sense, but still, we went miles out of our way.
We drove to the Federated Women's Club State Forest located off of route 122 in Petersham, MA. We were coming from the South, so once we crossed the Petersham/New Salem town line we looked for the entrance to the park on our left. From the entrance, we drove for 1.6 miles down a hemlock lined, narrow paved road to the parking area. The parking area can fit about five or six cars.
It was a beautiful, bright, sunny day with some spectacular clouds in the sky and about 39º when we started out at around 10:00 in the morning.
I used my Apple watch to record and make note of the distances we traveled.
The road to the parking area ends in a "T". At the "T", we went right and almost immediately we came upon an unnumbered gate.
At about .24 miles in, we came across some power lines and continued on.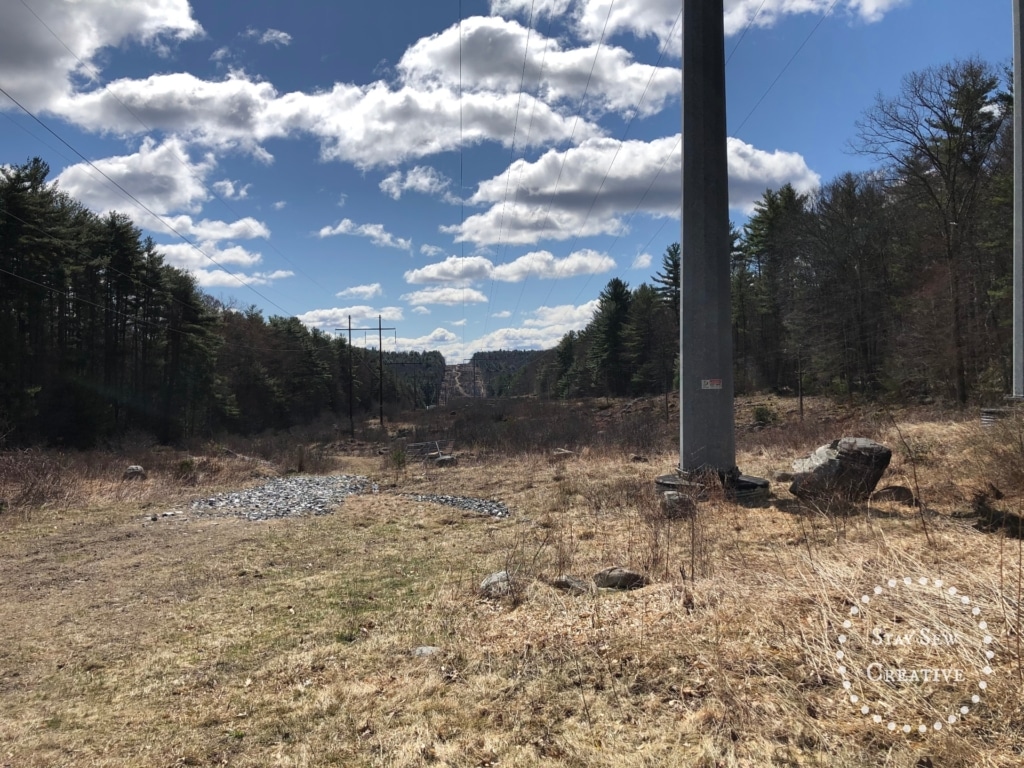 We then came upon a fork in the path with a plaque set in stone (at .38 miles).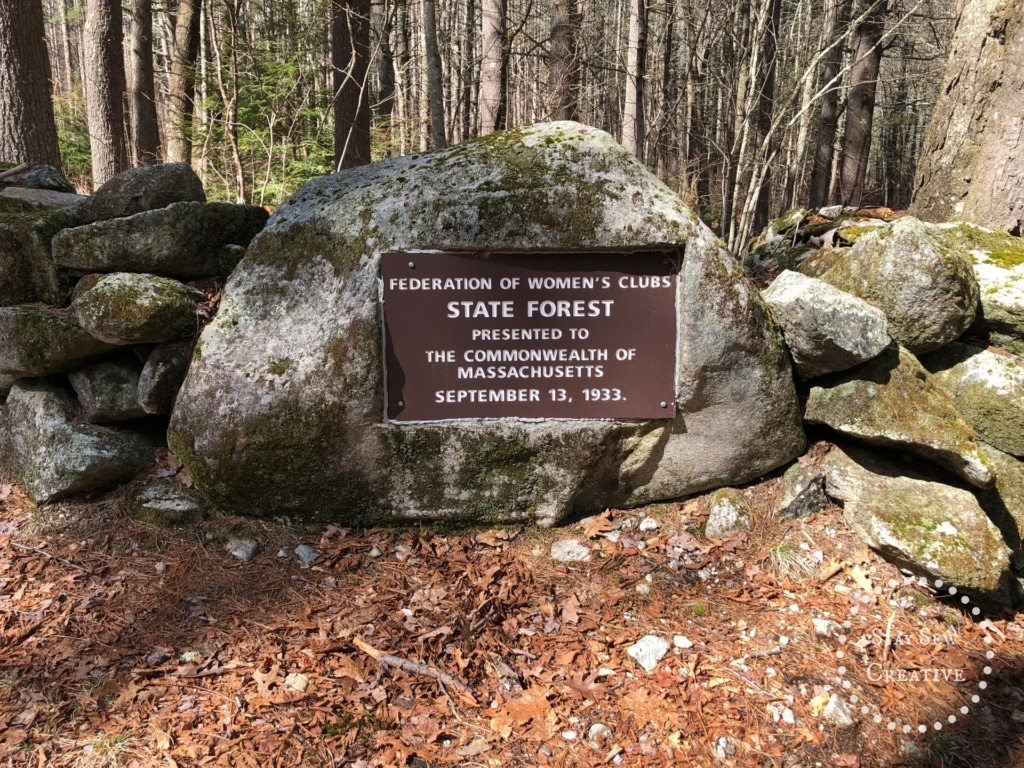 At this fork, we went to the left. To the left and right along the path are camp sites. Then at about .52 miles is a kiosk and a group campsite area on the left.
If you had gone to the right at the fork instead of left,  you would come upon Quabbin Reservoir gate 36, and that path would bring  you down to the shore of the Quabbin, which is another lovely hike.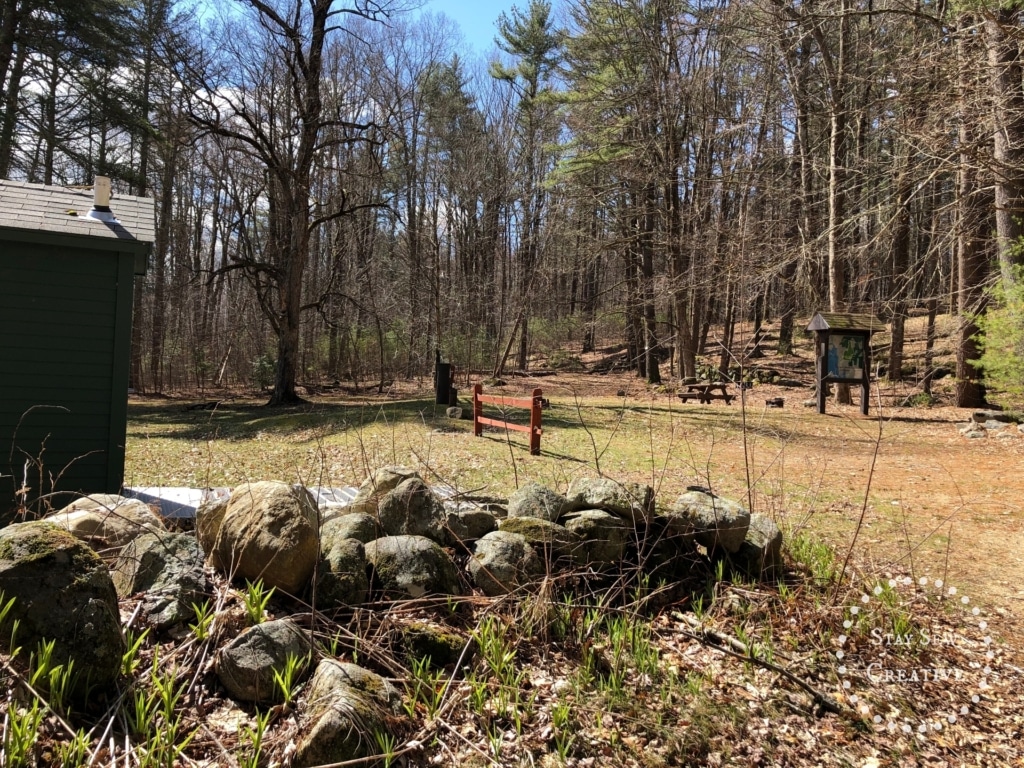 We continued straight up a slight hill where we encountered another unnumbered gate at about .58 miles. This was located just past campsites 14 and 15.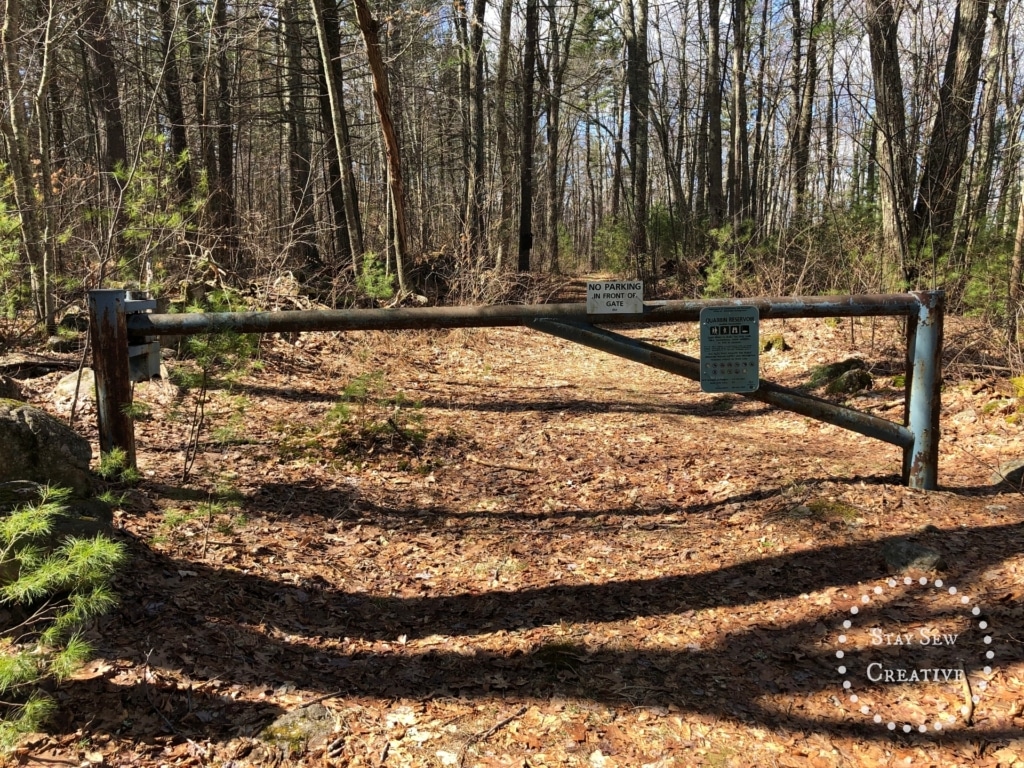 We went straight past the gate and at about .63 miles there was a path to the left. We took that path.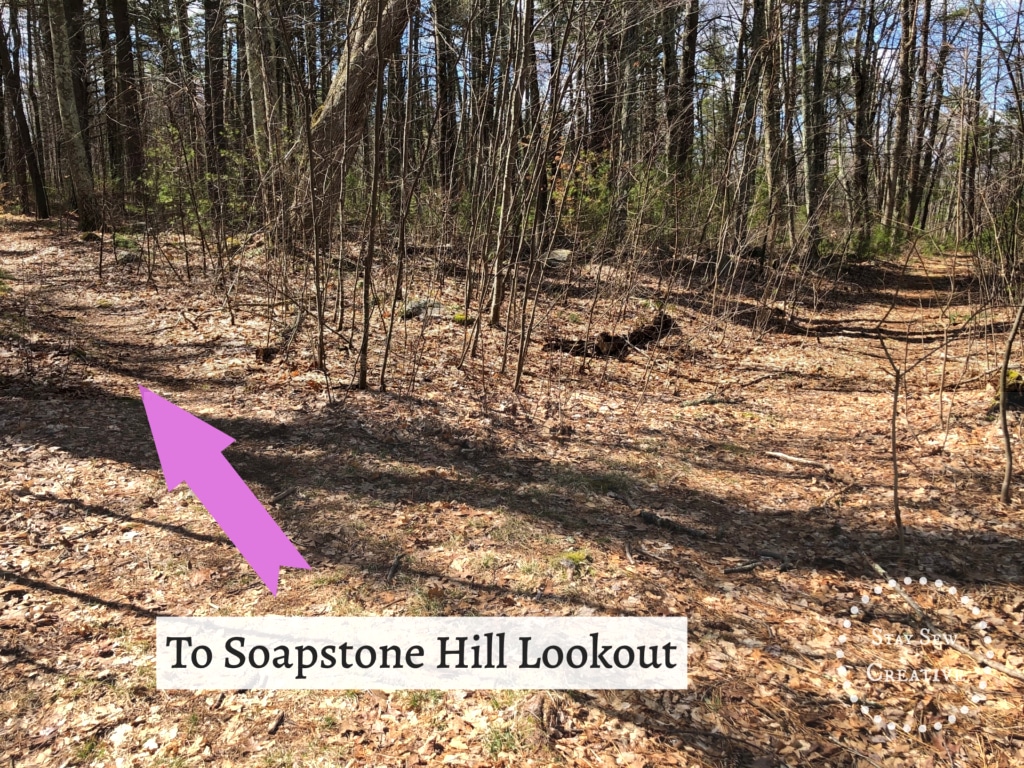 It should be noted that there ARE blue triangles marking the path to Soapstone Hill, but they are few and far between and many are broken. The path, however, is very clear so you shouldn't stray from it accidentally.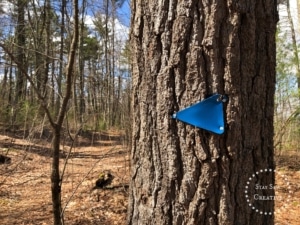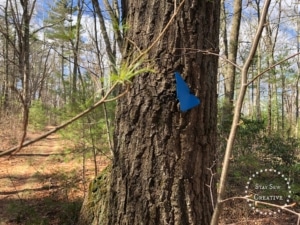 From the fork, the trail to the lookout is easy.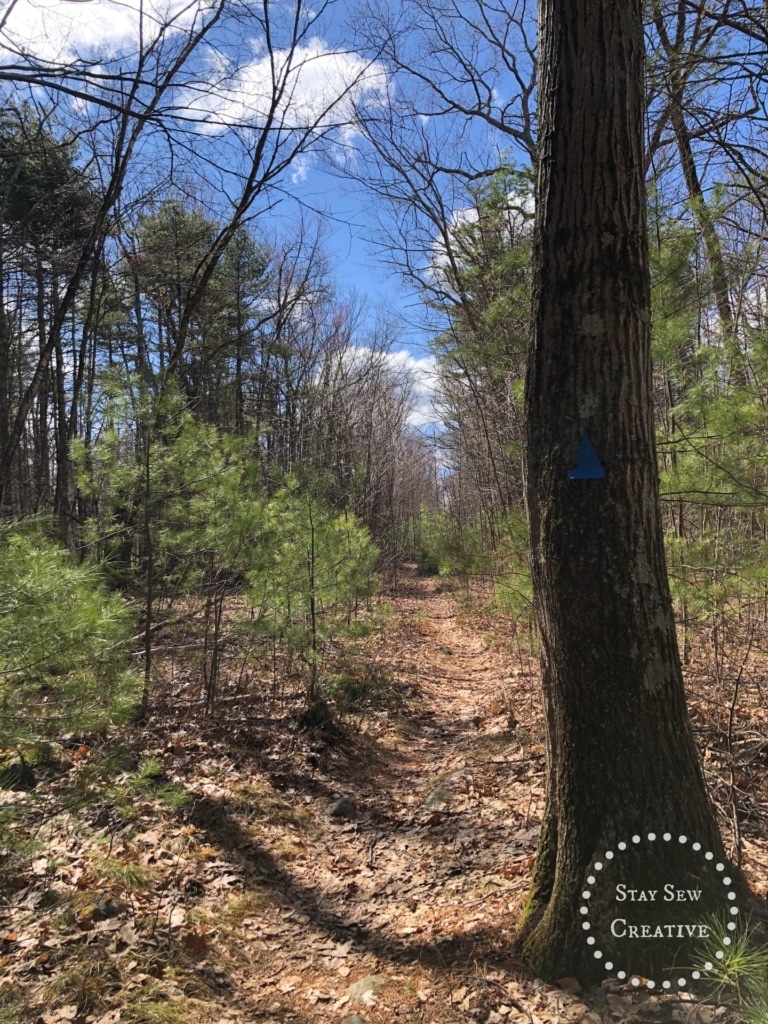 After a bit, the trail curves slightly to the right and brings you along a ridge. With the trees not yet leafed out, there are views to the left and right that are quite pretty. At about 1.41 miles, you end up at a rocky outlook where the views are amazing. I can't even describe to you how peaceful this spot was. I could have spent hours just sitting and thinking. On my next trip, I will plan to bring a light snack or lunch to enjoy. Here are some of the amazing views of the Quabbin from Soapstone Hill.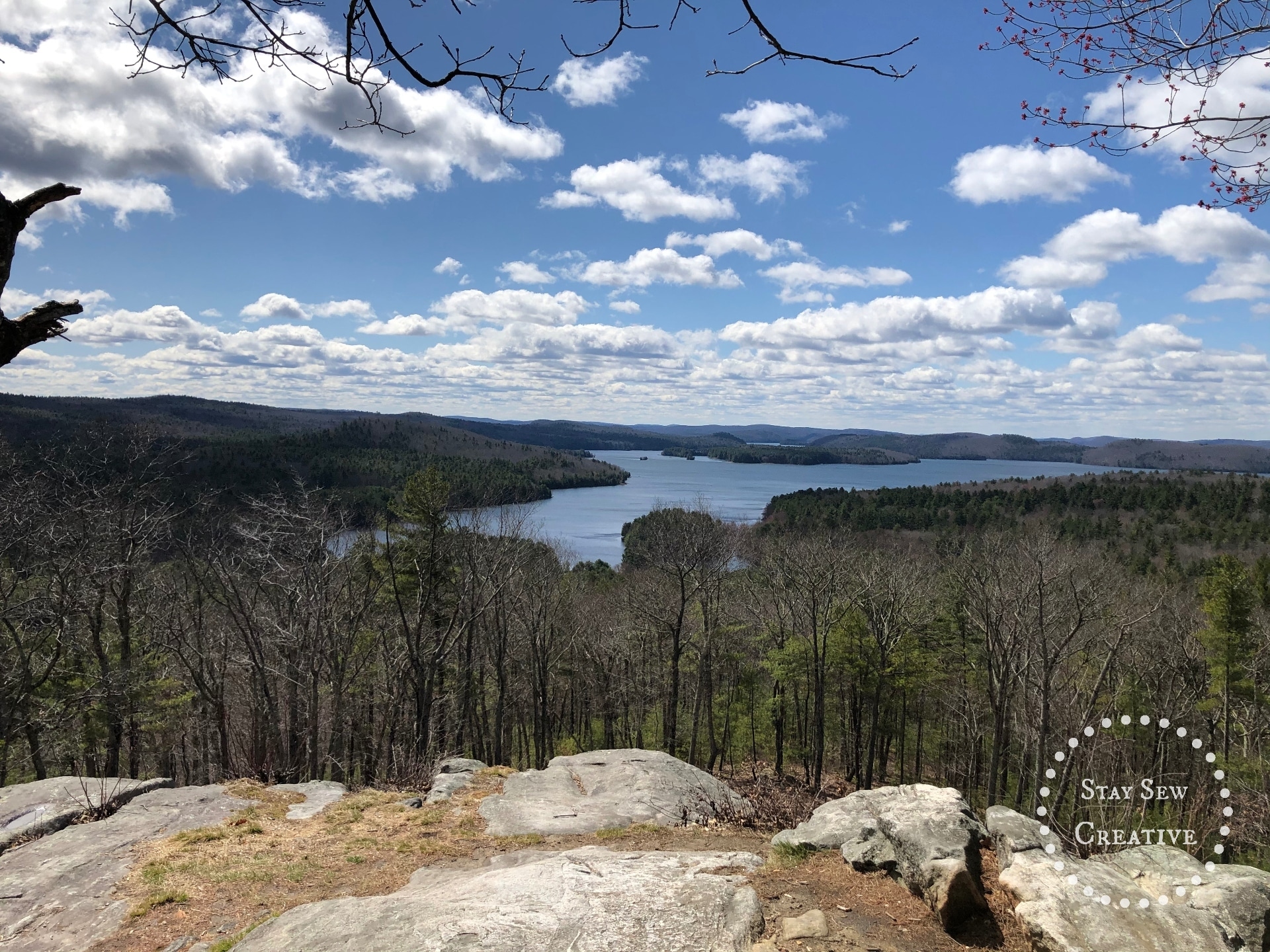 So, after spending a bit of time here, we decided to head back a different way. We had plenty of time, so why not? My GPS app showed a trail named "Gorge Trail" that brings you back into the campground through the "Gorge".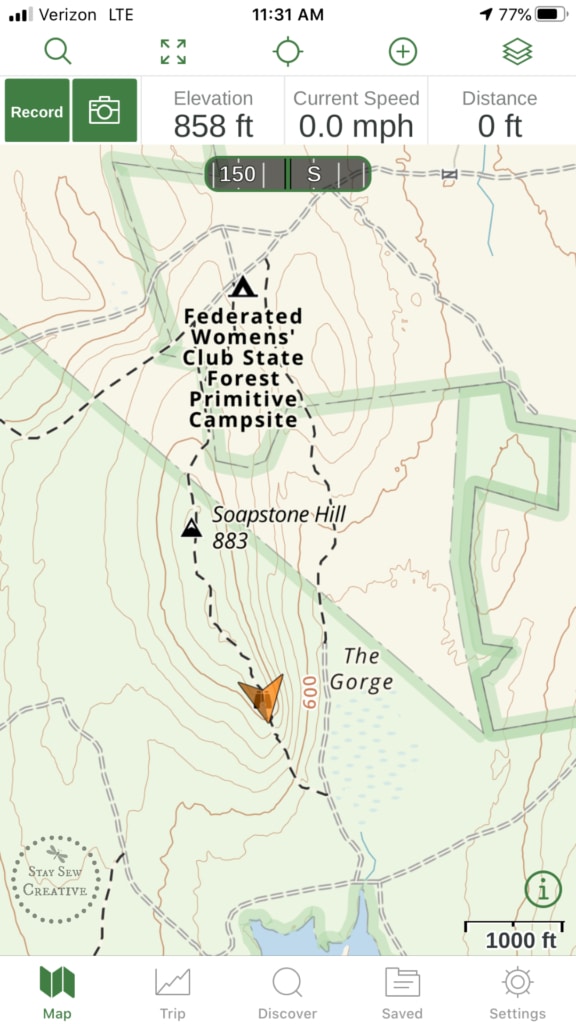 So, we headed downhill, away from the direction we came from, on a well used trail. We had actually seen a few other people on it while we were hanging out at the lookout. This trail was very steep, so we just took our time and had no problems.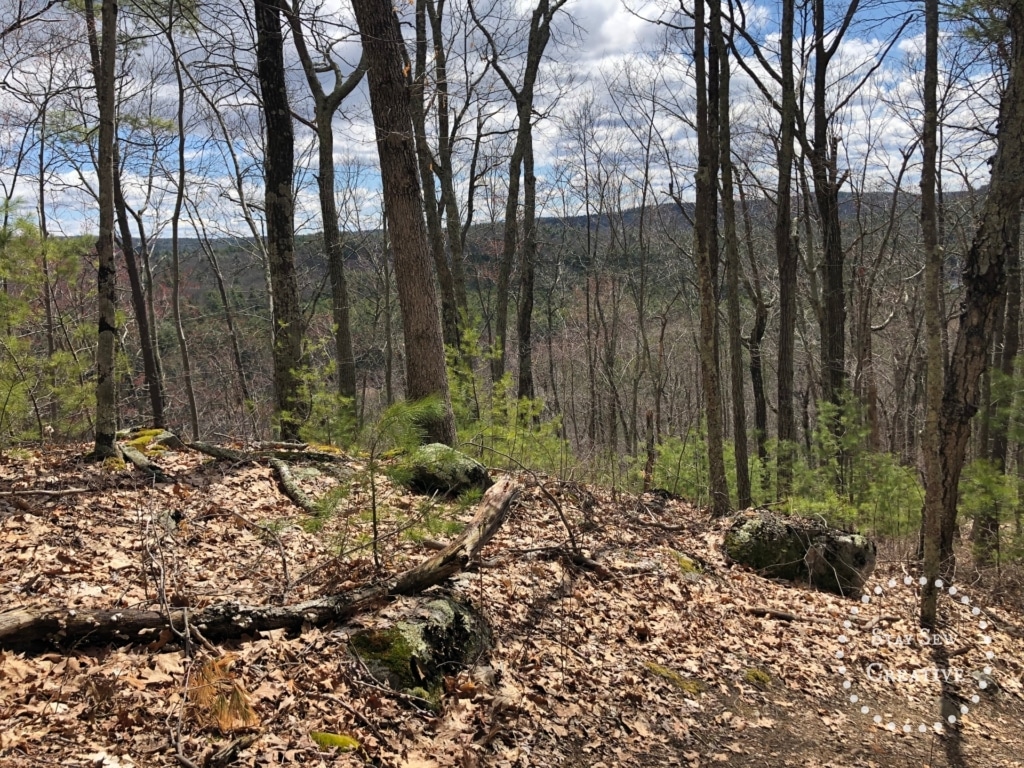 According to what I learned about the history of Soapstone Hill, this area was used as a quarry for soapstone. We saw evidence of that on the way down the hill and along the Gorge Trail.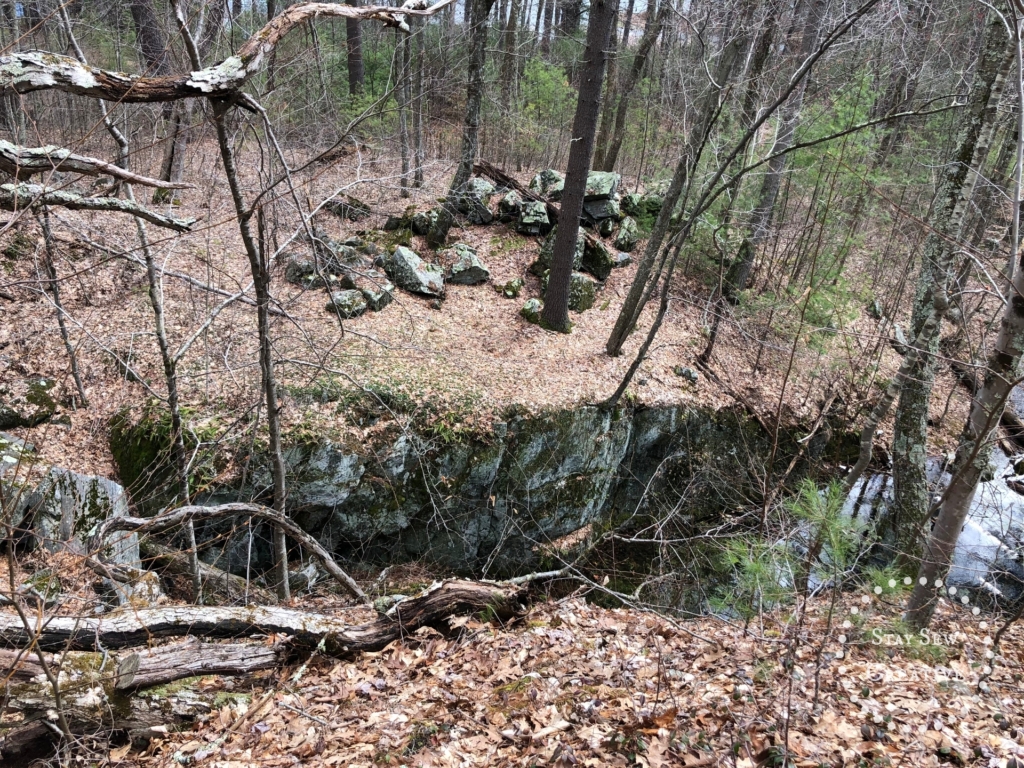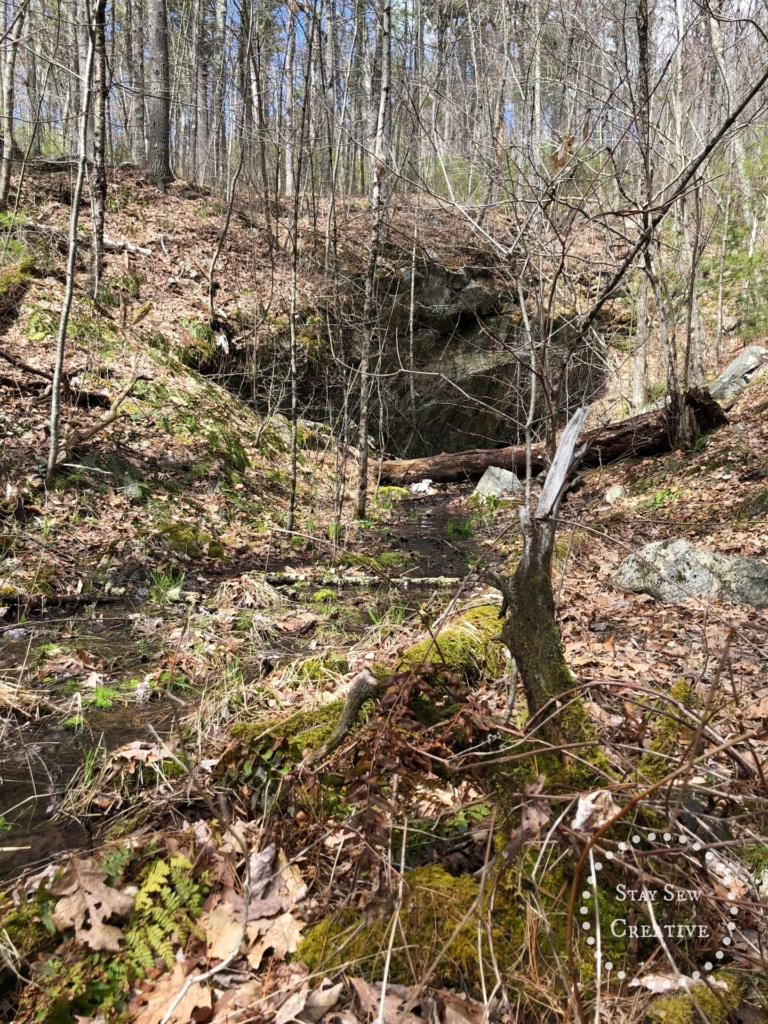 At then end of this trail, we came to a "T". This was at approximately 1.74 miles according to my Apple watch. Here, we went left. This was a grassy, old road with a good sized wetland/beaver pond to the right.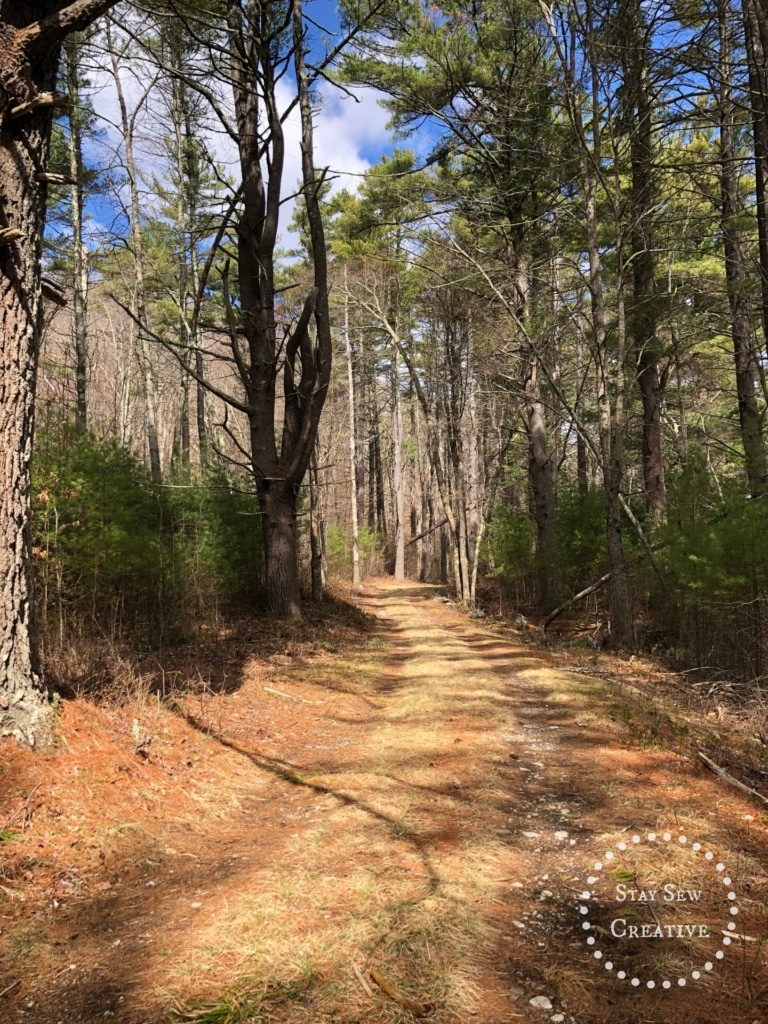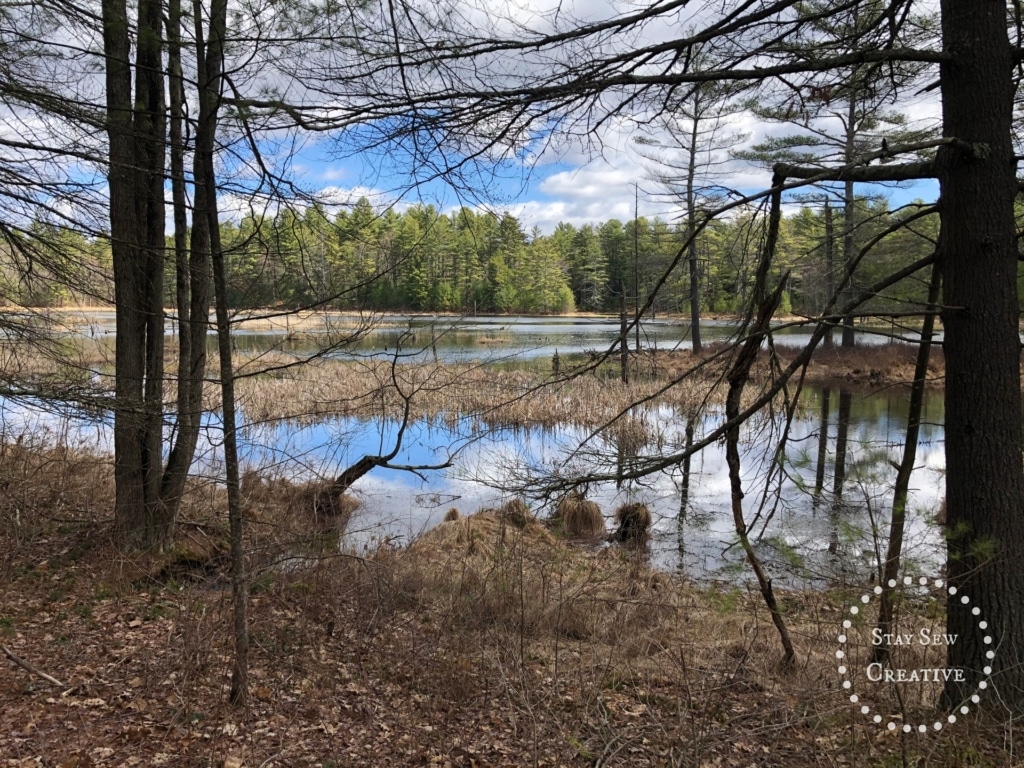 We stopped to look for wildlife and enjoy the view. We continued on, and at about  2.0 miles, the grassy road turned into a trail.
Along this trail to the left we saw more large rock formations and evidence to my untrained eye that this area could have been a quarry.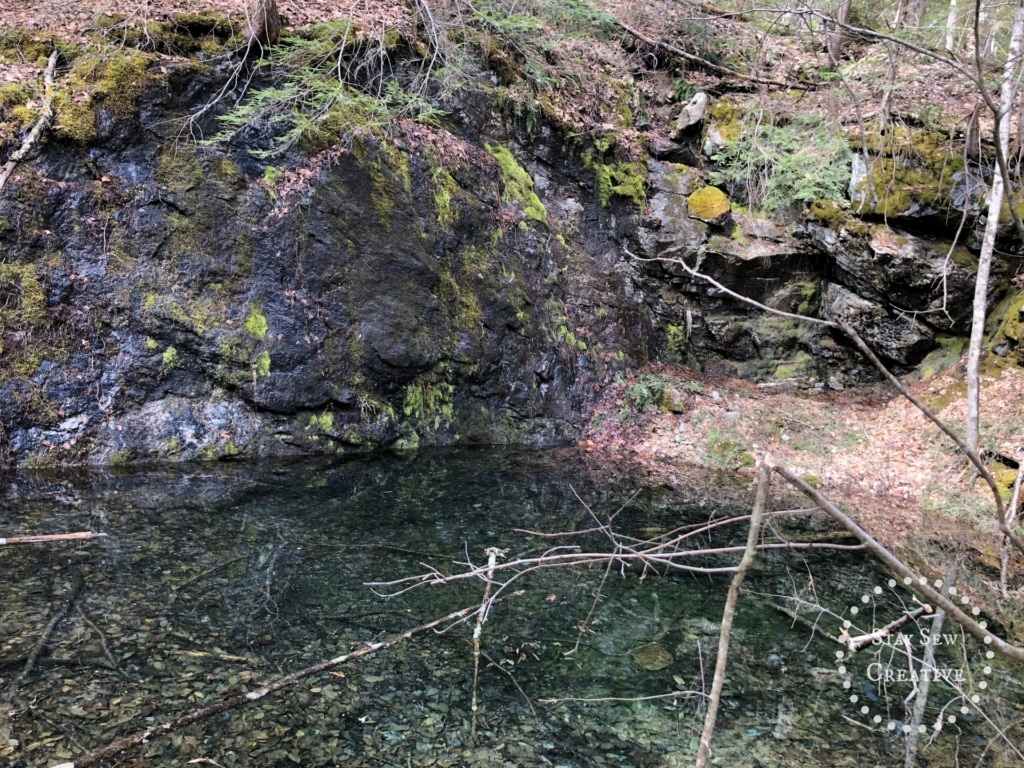 There was one section of this trail that was a bit difficult to follow. It was covered pretty well by mountain Laurel. It seemed like this trail doesn't get too much use. But, to be fair, it is only the beginning of April. If you take this trail, just pay attention and you should be fine. Again, there are blue triangles, but they are few and far between.
One really cool thing we saw was moose skat and evidence that a moose had been browsing on the hemlock.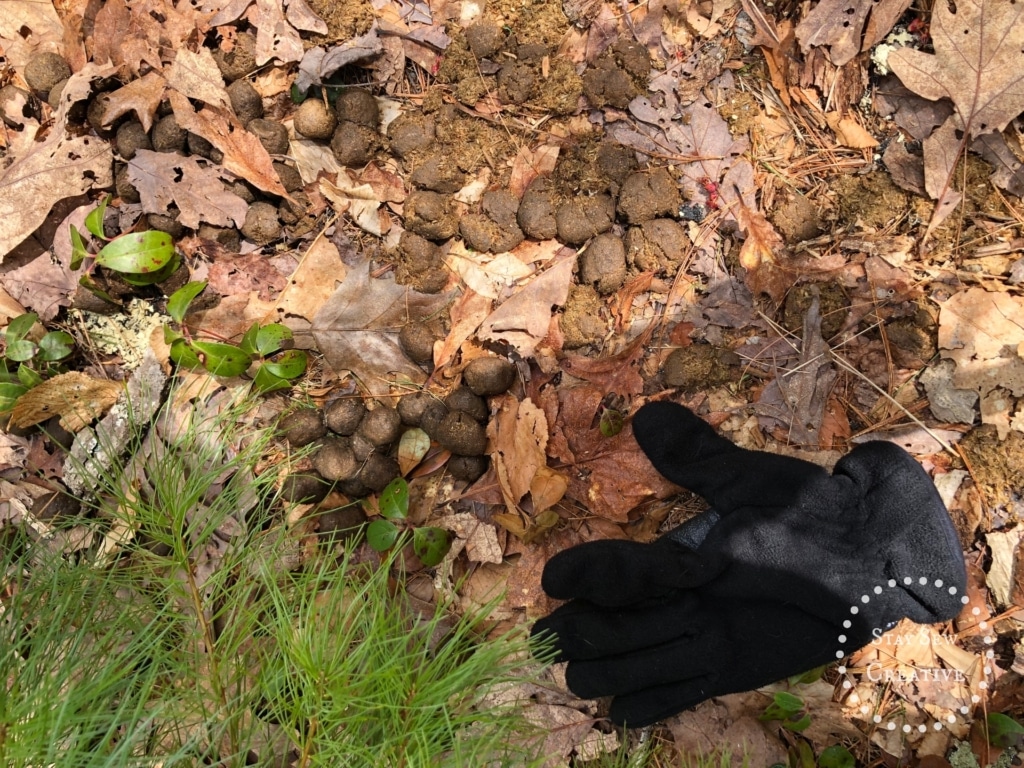 The only wildlife we saw was some waterfowl in the beaver pond, but we had forgotten our binoculars so I couldn't identify them. We did hear some sort of woodpecker in the distance, but never saw it.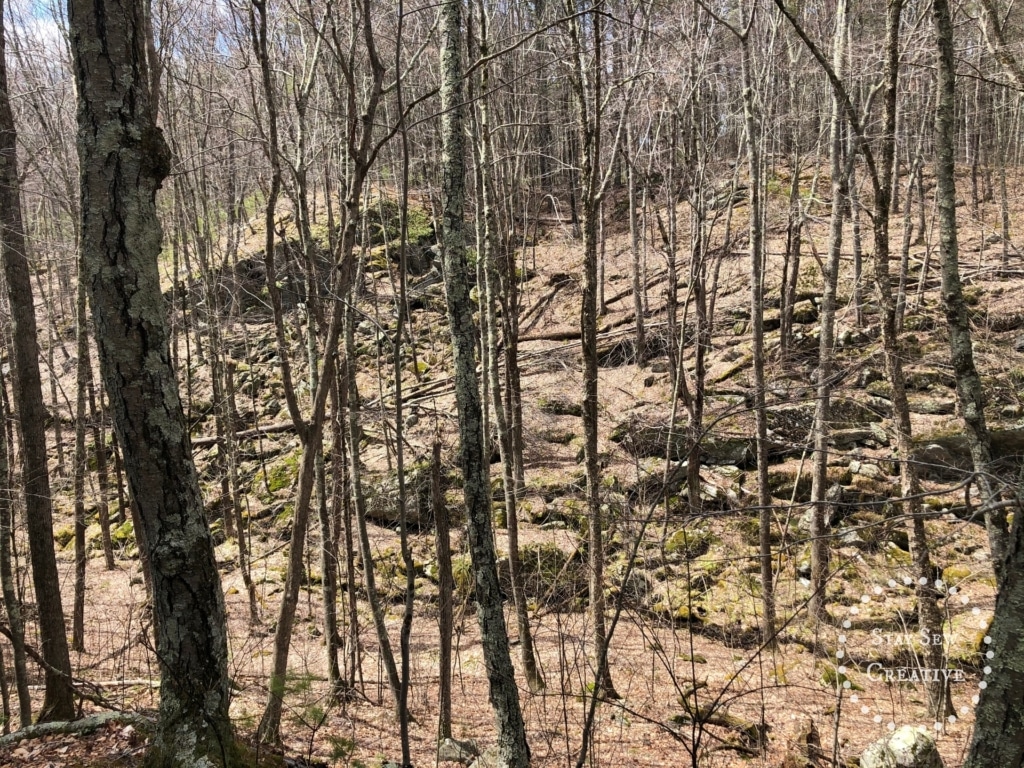 At about 2.75 miles, according to the Apple watch, you come to a fork in the trail. Going left brings you into the group campsite area where the kiosk was. Going straight (to the right) brings you through a couple of campsites (2.85 miles) and onto the path above where the plaque is set into the stone. Follow the path back under the power lines (3.01 miles), and then back to the parking area (3.28 miles).
It was 12:45 pm when we got back to the car, and by this time the temperature had reached 50º. We had taken our time and stopped often to take pictures and make notes. This hike was an easy one for us and not too long (about 3.28 miles total), plus, we got the reward of a spectacular view. This was a great area to explore, and I'm looking forward to going back again.