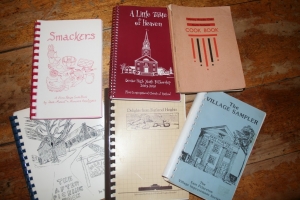 A very small sampling of my community cookbooks.
 I absolutely LOVE community cookbooks. They're the cookbooks put out by churches, schools, and other groups, usually as a fundraiser. They're also called regional cookbooks. If they're vintage, I like them even more. Oh yeah, if they're cheap that's a plus, too. I look for them at yard sales and estate sales. My favorites are the ones from areas that have some sort of meaning to me. I also like the ones from the South, because I think that Southern cooking is just awesome.
For my fortieth birthday, my Mother gave me a box of forty community cookbooks that she had been buying off of eBay. Since then, I've been picking up more. I have no idea how many I have, and I probably don't really want to know.
The vintage cookbooks are interesting because a lot of times you see ingredients listed in the recipes that just aren't used today. One example is suet. Yes, suet. Suet Pudding, anyone? When I think of suet, I think of the stuff that you put out for the birds. Woodpeckers are particularly fond of it.
Sometimes the covers of these cookbooks have beautiful artwork. I have one cookbook put out by the First Congregational Church in Paxton, Massachusetts in 1980 that has a beautiful folk art cover.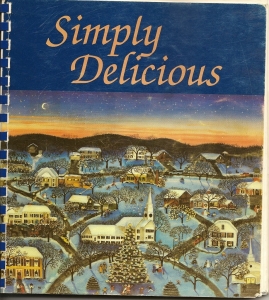 Cover illustration: A Scene of Paxton "When the Morning Stars Sang Together" by Judith Russell
Coincidentally, around the time that I picked up the Simply Delicious cookbook, I also picked up a framed note card. The artwork was also in the folk art style. Later, I noticed that the artwork on the note card happened to be by Judith Russell. It was called School House and was one of a series of twelve in The Peaceable Kingdom in Old Deerfield from Historic Deerfield Massachusetts. The date on the back of the notecard is 1991. At the time, I did an internet search for more of her artwork, but was unable to find much.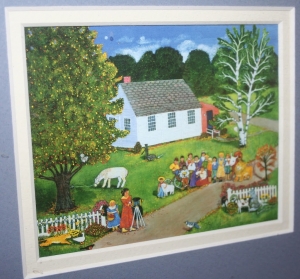 Framed note card with artwork by Judith Russell
At some point, I'll probably go through my collection and cull the cookbooks that don't grab me, but for now, they don't take up too much room, and I enjoy looking through them to find that unique recipe.