I finally made the Kindle cover for my Grandmother! I ordered the pattern from Birdiful Stitches on etsy probably well over a month ago. Didn't want to rush into anything. I was surprised at how quickly it went together. It took maybe about an hour or an hour and a half. Wonder of wonders, I didn't mess it up, or have to rip anything out! Must be a testament to the quality of the directions.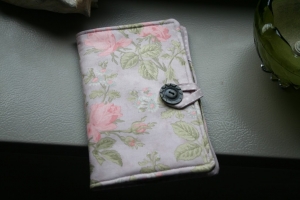 I am not a Kindle connoisseur, so I had to email Berritt, the woman behind Birdiful Stitches with a question about which pattern piece would be the correct one to use for my Grandmother's Kindle. She got back to me right away.
The fabric that I used was very pretty with roses on it, made by Moda. The coordinating fabric, also by Moda, had polka dots on it. I got them both last summer at a yard sale. That sale had lots of pretty fabric that I snatched up. I had no idea what I was going to use it for, but I knew that I liked it, and it was coming home with me. I think that the fabric suited Mom.
No, she's not "Grandma". When I was very young, we would pack up the station wagon and spend the summer at a nearby lake. There were about six or seven cottages grouped on a peninsula of land. My parents and I (and eventually my sister) stayed in one cottage and my Grandparents, aunts and uncle would stay in another. I was told that as a toddler, I'd follow my mother around, while she was spending time with her Mother. I heard my Mother and my aunts and uncle, calling their mother "Mom", so I guess I figured that must be her name. So, I grew up calling my Grandmother, "Mom". The name stuck, and now all of the grandchildren call her "Mom".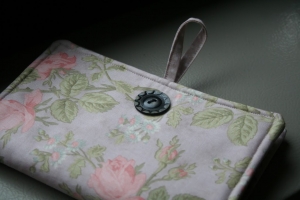 The button that I used was one from my stash. I have no idea where it came from; I collected it from somewhere along the way. It's most likely vintage, and I loved its design.
If I make another one, the only thing I'd do differently would be to stitch a little closer to the edge when doing the top stitching. And, I'd probably take the time to prewash the fabrics. It was a tight fit. I had to very carefully stretch the fabric to get the Kindle into the cover. When I was making the cover, I didn't have an actual Kindle in my hands to use to see how it'd fit before I did the top stitching. On the plus side, that Kindle will not fall out of its cover, that's for sure.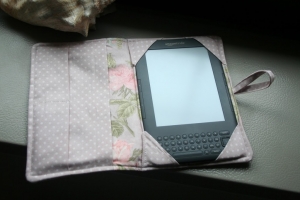 Overall, I am very happy with the way the cover came out. The pattern directions were easy to understand, and I liked that when I had a question, I got an immediate response. So, if you are thinking about making an e-reader cover, head on over to Birdiful Stitches to purchase the pattern.