Over the weekend I went to Gould's Sugar House in Shelburne, MA on the Mohawk Trail (route 2). We were there early enough in the season to see the process of making maple syrup. We went last year, but we were too late in the season to see it. I love maple syrup, so it was great to see how it's made.
We got there at around 9:00 am, and the place was very crowded. We had to wait for about an hour and a half before we were seated for breakfast. There's enough to keep you busy while you wait, though. There's a gift shop, maple soft serve ice cream for 25 cents each, and of course you can watch the sap being boiled down into syrup. The Gould family is very nice and more than willing to answer questions. What a thrill to get a taste of freshly made syrup right out of the vat. You can't get any fresher than that!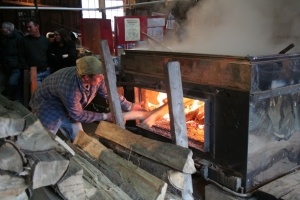 The temperature is about 700 degrees.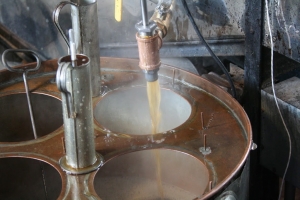 It takes 40 gallons of sap to make 1 gallon of maple syrup.

They were bottling the syrup that day, too. The bottle of syrup that I bought before we left was still warm. Yummy!
Bottling the freshly made maple syrup
The restaurant is rustic; it's located in part of the barn. When your name is called, you go up a few steps into the restaurant to be seated. The kitchen is somewhat open to the restaurant, so you can see them making the pancakes, and other goodies. There are a couple of wood stoves to heat the place. Most of the tables are long, heavy wooden ones, with bench seats to match. They will seat about six people comfortably, maybe even eight. There are a few smaller tables, too. The restaurant isn't large. If I had to guess I'd say it seats about 50-60, but that's just a guess – I could be way off. The shades for the lights over the tables are wooden buckets turned upside down with holes drilled in the sides. I should have gotten a picture of that!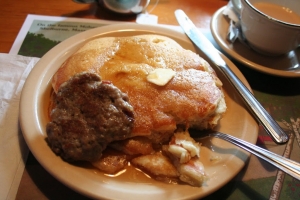 Worth the wait!
 The breakfast was delicious!! I ordered pancakes and sausage. They were out of this world. I can honestly say that it was worth the wait. You can't beat pure maple syrup. I'd rather not have pancakes than put the fake stuff on them. We also had a small bowl of cut up pickles. The theory is that the pickles cut the sweetness of the maple syrup. Me – I love the sweetness, so that's not a problem for me, but they were good anyway.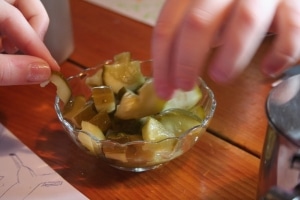 Yummy pickles!
This was only our second year going to Gould's, but we loved it just as much as the first year. I can see this becoming a tradition.
Do you have any favorite springtime traditions?