My assignment: make some cookies for the annual Christmas Bazaar at church, where the cookie table is very popular. Don't you get sick of making the same chocolate chip cookie all of the time? Plus, when you go to a bazaar, chances are the table is filled with – what else- chocolate chip cookies. Now, mind you, I LOVE the good 'ol standby, the classic chocolate chip cookie, but every now and then, I like to mix it up and be a little more creative, and in this case, contribute something a little different to the cookie table.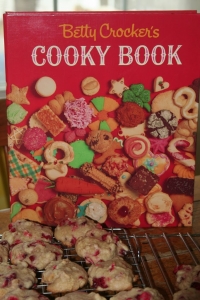 Betty Crocker's Cooky Book

Enter, Betty Crocker's Cooky Book. My husband knows how much I like vintage cookbooks (okay, vintage anything, almost) so I found the Betty Crocker's Cooky Book under the tree for me on Christmas morning last year. The book was originally published in 1963, but I received a copy that was published in 2002. Heaven. I haven't made one cookie from that cookbook, until today. I chose the Cranberry Drops recipe, mostly because I had all of the ingredients on hand, and I thought it was something that would appeal to people. I also thought that the chances of there being another Cranberry Drop cookie on the cookie table at the bazaar were low.
So, the results? Absolutely yummy! The tartness of the cranberries mixed with the sweetness of the dough made for a wonderful combination. This one is going in my list of "keepers". The recipe is below. If you do try it, let me know what you think. The recipe says to bake for 10-15 minutes. I found that my baking time was about 10-11 minutes, and they were perfect. Also, the recipe says the you'll get about 11 dozen, but I only got about 7 dozen.
From: Betty Crocker's Cooky Book
1/2 cup butter or margarine
3/4 cup brown sugar (packed)
2 1/2 cups coarsely chopped cranberries
Heat oven to 375 degrees (quick mod.). Cream butter and sugars together. Beat in milk, orange juice, and egg. Measure flour by dipping method (p. 5) or by sifting. Stir together flour, baking powder,l salt, and soda. Blend well with sugar mixture. Stir in chopped nuts and cranberries. Drop dough by teaspoonfuls on greased baking sheet. Bake 10 to 15 min. Makes 11 doz. cookies.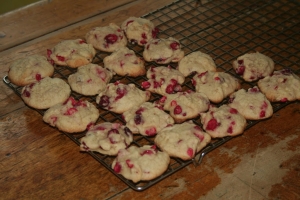 Cranberry Drop Cookies fresh out of the oven
Finally, as a side note, I think it's funny that "cookie" is spelled "cooky" in the title of the cookbook. It always makes me think of "kooky."