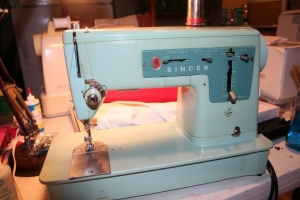 Singer 337
I picked up this Singer 337 off of Craigslist. The man who owned said that it had been his mother's and that the last time that it had been used was about a year ago by his granddaughter. It came in a cabinet, and upon first glance it was very dirty.
After sitting for a couple of weeks, I took a good look at it and started to clean it up. It started to look better immediately. It didn't run, but seemed like it wanted to when I pressed the foot control and turned the hand wheel at the same time. I felt like the problem was the foot control. I ordered one off of eBay, and when it came in the mail, I plugged it into the machine right away. It worked! After a complete cleaning, oiling and greasing of the gears, it seems to be as good as new. I also replaced the rubber feet on the bottom of the machine. Over time they had hardened and cracked. It took a bit of work to chisel them out. The rubber feet from the Touch & Sew fit this machine just fine, so that's what I ordered.
The blue color of this machine is just wonderful. If it had come with the original foot control, that cord would have been blue like the color of the machine. Even the bobbin winder tire is blue! The original carry/storage cases were also blue. I'm on the lookout for one of those. I'd love to get one to store the machine in.
I have decided to keep it out of the cabinet, since the cabinet was in poor shape. Plus, the cabinets take up a lot of room that I don't have.
It was made in Great Britain in 1964 and 1965, and is a zig-zag machine. So far, this has been a great machine for me. I'll probably keep it, because I've put a bit of money into it, especially with the new foot controller.