I've got a new project to work on. Now that the holidays are over, the house is relatively clean, and I'm caught up on laundry, I thought it would be a good time to get started on a baby quilt that I've been wanting to make. It's for my husband's co-worker's baby. Ok, so the baby is about 7 months old now. I was just really overwhelmed before, and now I feel like I can breathe again. Anyway, it's never too late to give someone a handmade quilt.
I just picked these up today. I had a chance to go to JoAnn's Fabrics, so I took the opportunity to pick out which fabrics I wanted. That part is ALWAYS the hardest for me. I picked out five different fabrics for the quilt top. This is a change for me. In the past, I've only used about two different fabrics. I have only done 9 patch squares, or some variation of that. This time, I'm mixing things up a bit and trying something new. I have a design in my head, so we'll see how it turns out in reality.
These are the fabrics I chose for the quilt top: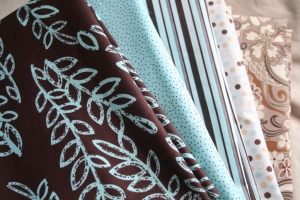 For the backing I chose this fabric: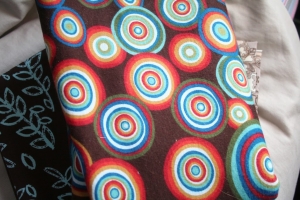 The backing fabric is a little bright, but I figured it'd be great for a baby to look at and play on. It's flannel, which I love to put on the backs of my quilts and blankets. It's so soft and snuggly, and I hope it'll be comforting.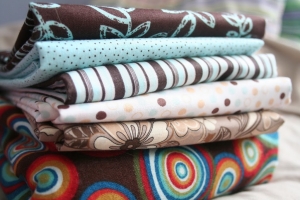 I chose fabrics that didn't scream "baby". Those are great, but I'm sure by this time, the parents (and the baby) have tons of that stuff already. My hope is that this quilt be loved right into childhood and beyond, so I wanted fabrics that would be appropriate for any age.
The fabrics are in the wash now, and I can hardly wait to get started on this project. With all of this snow that is predicted, it'll give me something to do in between shoveling.