My family and I visited Niagara Falls for the first time this summer. It was amazing! So beautiful! It was about a seven hour drive pulling a pop up camper, and making several pit stops. Long drive, but well worth it.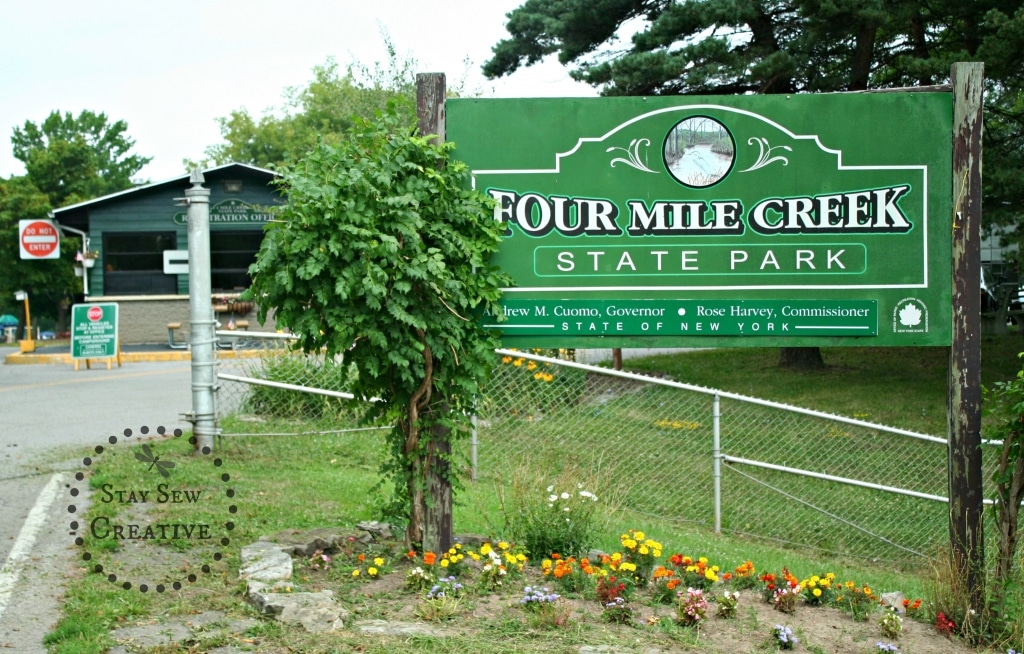 We booked a camp site at Four Mile Creek State Park in Youngstown, NY, which is about fifteen minutes from the Falls. It is located on the shores of Lake Ontario. This campground was wonderful. Our site, #265, was shady, close to the bathrooms, and relatively private. The people working in the office at the campground were super helpful, pointing out places to go, and things not to miss. We stayed for four nights and could have easily stayed longer because we didn't get to do everything we wanted to. Our site had electric, which was a nice convenience. Look for a future post for more about this campground.
We arrived on a Sunday, so after we set up the camper and had something to eat, our first order of business was to go to the Falls and explore for a bit and get a spot to watch the fireworks. They shoot off the fireworks on Fridays and Sundays and we didn't want to miss them since we wouldn't be there on Friday. They started at 10 pm lasted only about 10 minutes, but it was pretty and worth watching. We walked over the Rainbow Bridge into Canada and watched them from the Canadian side. It was pretty fun to walk across the border. By the way, you have to pay .50 to come back to the U.S. Strange but true.
One of the positive things about staying at Four Mile Creek State Park was that we got free parking at the other nearby New York state parks, including Niagara Falls State Park which is where you access the falls on the American side. It's also where you access the Maid of the Mist and Cave of the Winds.
Of course, our first visit to Niagara Falls wouldn't be complete without experiencing the Maid of the Mist tour as well as the Cave of the Winds. I have a pretty decent camera and I was concerned about bringing it with me because I didn't want to ruin my camera. My solution was to put my camera in a large zip-type plastic storage bag and only take it out when there wasn't a lot of moisture in the air. That solution seemed to work pretty well. I also put my cell phone into a smaller zip storage bag and that worked out well too. They both stayed nice and dry and didn't get damaged.
Maid of the Mist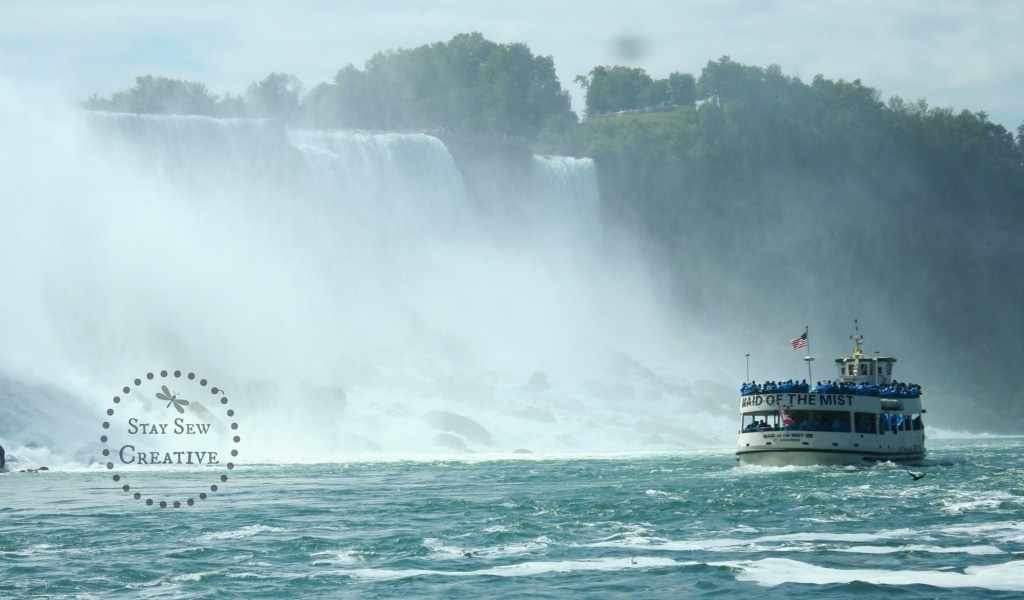 To access the Maid of the Mist, you enter through the Observation Tower.  Then you take an elevator down to the base where you'll get a complimentary poncho. From there, you walk down the walkway and get in line to get on the boat. The poncho was plenty big enough to fit over my backpack, which is where I had my camera stowed in the zip storage bag.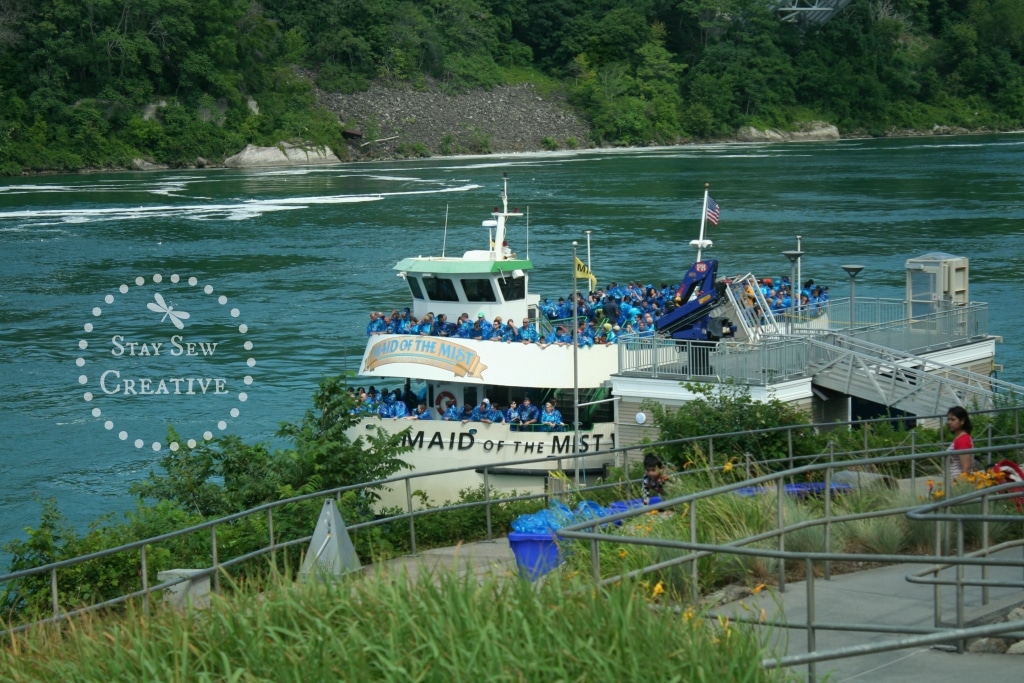 The boat ride was amazing. It was so cool to get as close to the falls as we did. You could feel the power as the falls reached the bottom with thundering force. I was surprised that I didn't get wet. It might have been because I was on the lower deck towards the stern of the boat. I think if I had been on the upper deck, I would have gotten wet. I was fine with that. Even though it was a hot day, I had no desire to walk around as a soggy mess.
There was quite a bit of mist, so I didn't take my camera out really close to the falls. When we were a little further from the falls, I took some pics with no problem.
After getting off of the boat, you can climb a set of stairs for another view of the falls. It was really crowded on the stairs the day we were there, but it was still an interesting thing to do. Here's a couple of views of the stairway:
Cave of the Winds
One of the other items on our "must-do" list was to see the Cave of the Winds. To access the Cave of the Winds, you need to go to Goat Island (it's still part of Niagara Falls State Park) where there are signs directing you to the Cave of the Winds. Here's a tip: The main parking lot was just about full and crowded with people looking for spots when we arrived at Niagara State Park that day. What you can do is drive to Goat Island to Parking Lot 2 (or Lot 3, if necessary). There was hardly anyone parking there. It was so easy! There is a bridge that you can walk over to take you to the other part of the park, or you could take the trolley.
You buy your tickets and then receive complimentary sandals. After we got our sandals, we got into line to wait for the elevator to bring you 175 feet down. The line was long, but it did move pretty quickly. As an aside, after a completely unscientific survey, it seems as though dads in particular love to wear these sandals all over creation after the tour is over.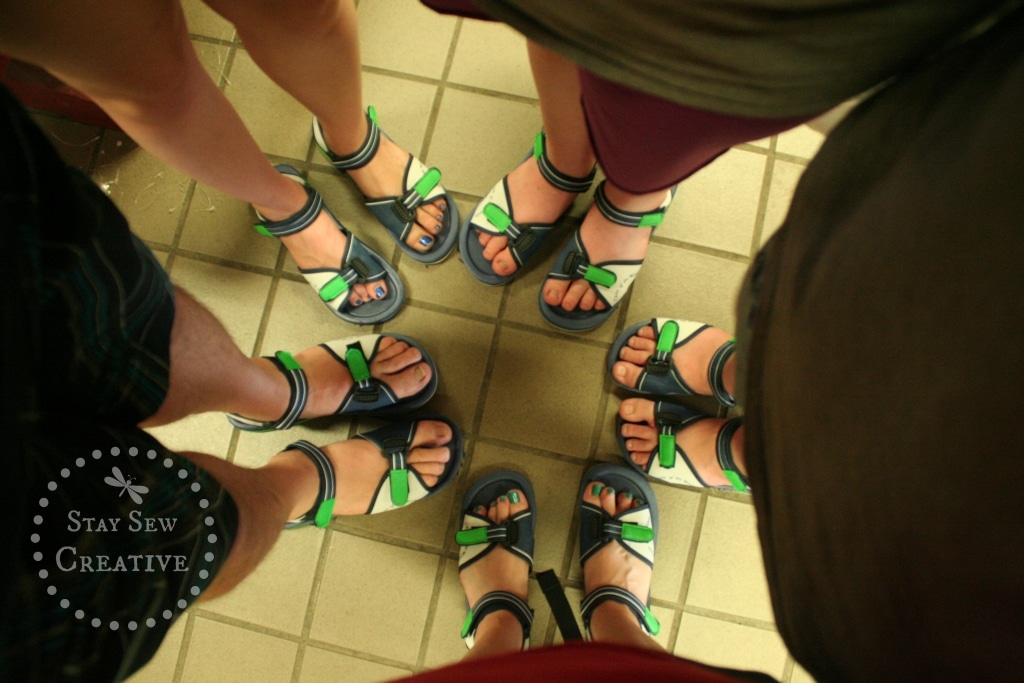 After we got off of the elevator, we walked down a long hallway that brings you outside where you get a poncho. This one fit over my backpack, too, so my camera was well protected again.
By this time, I was sick of putting my camera in and out of my backpack, so I ended up carrying it in the zip storage bag. I took the camera out when I wanted to take a pic of something, then put it back when it was too misty. It was fine.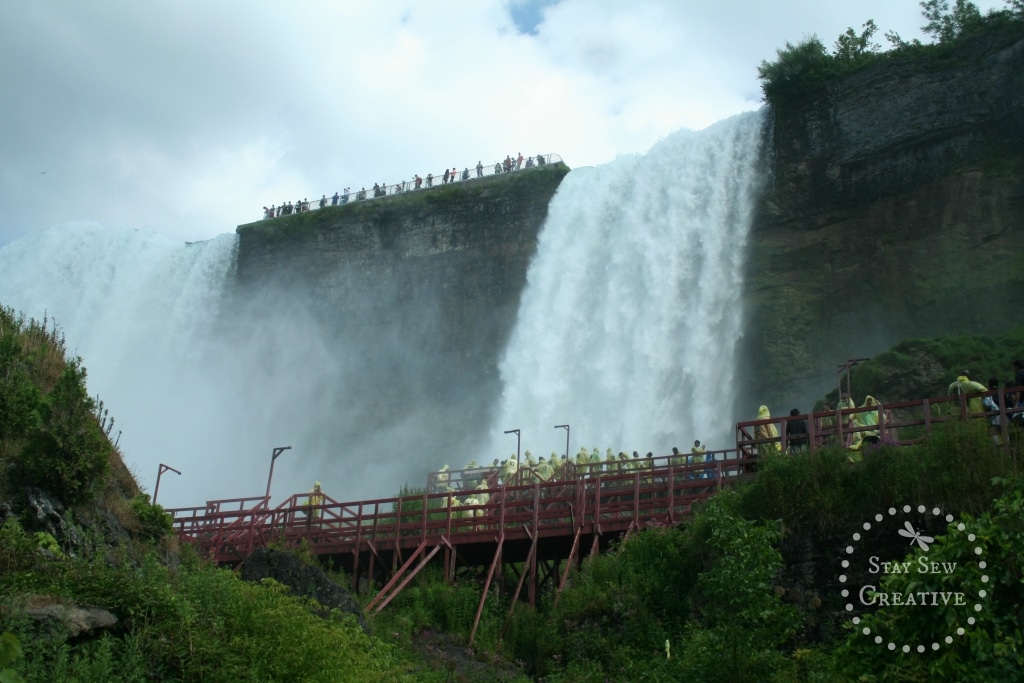 The Cave of the Winds is a series of wooden platforms that you walk on to get up close and personal with the falls. At some points, the water from the falls was flowing onto the platform and over my feet. It was a hot day, so it was pretty refreshing. I couldn't believe how close we were! On one part of the platform, called the Hurricane Deck, the water is flowing onto you. You will get wet if you go up to this deck! I was a big chicken, though, and didn't go up that far. The rest of my family did and they loved it!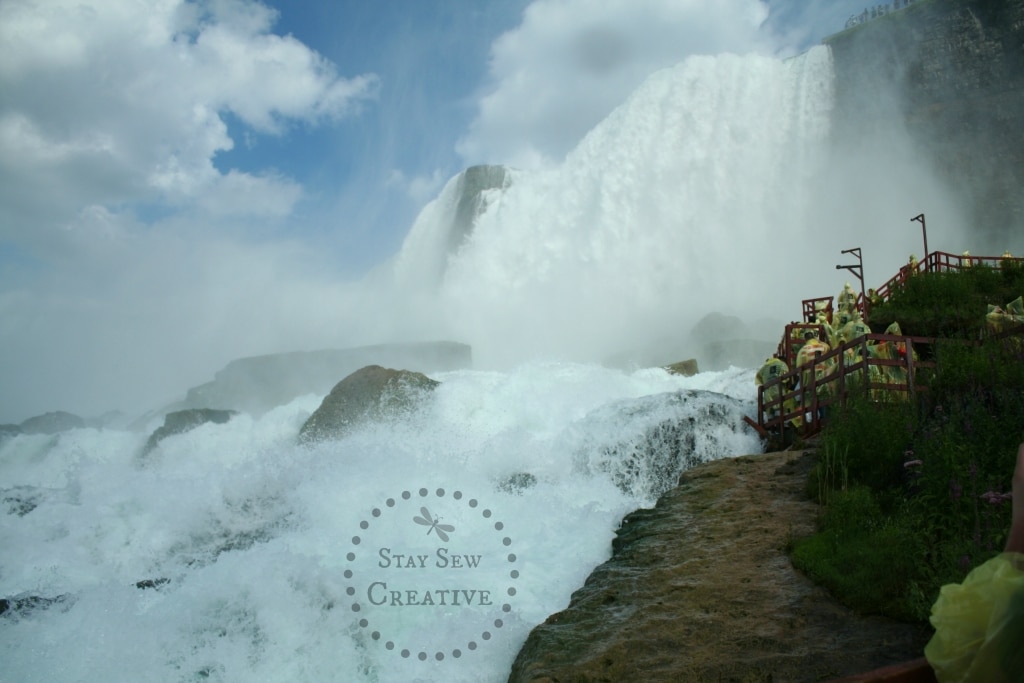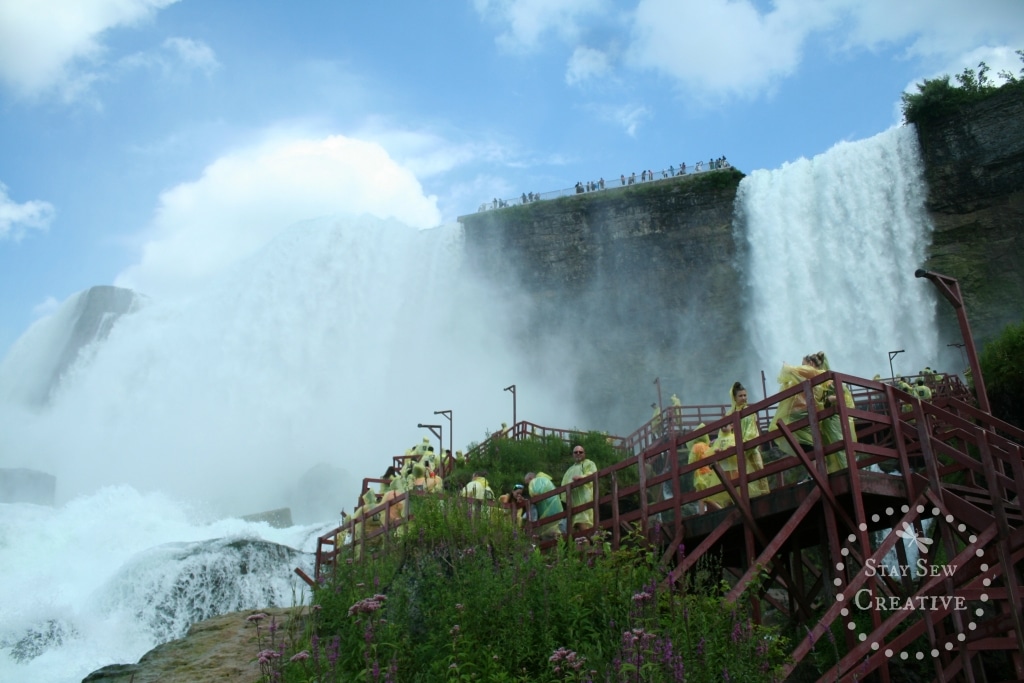 There were many nationalities of people enjoying the Falls. It was wonderful to see everyone enjoying this natural wonder. Even with all the people, the employees kept the park very clean and beautiful.  There was a lot more that we did on this trip, and even more that we didn't we didn't get to do because we ran out of time. We'd love to go back someday and check out what we didn't get to do.
Look for future posts about our other adventures in Niagara Falls and from the rest of our vacation!